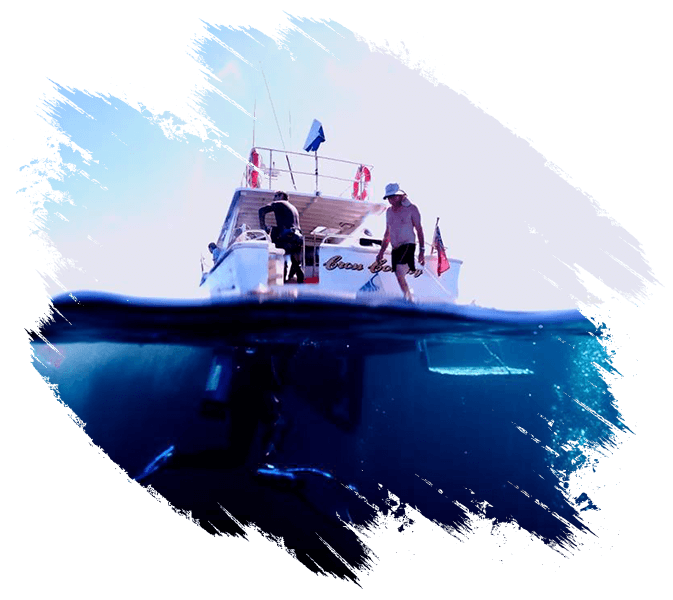 All Octopus Garden Dive Charters cruises and dive charters are "eco" tours (no fishing or spear fishing) and depart and return to Casuarina boat harbour in Bunbury where you will board and disembark from the service wharf in Casuarina harbour.
Our skipper Kim is a PADI Dive Master with over 40 years' experience in boating and scuba diving. We cater for experienced divers & do NOT provide in water dive supervision unless specifically requested. If you are inexperienced (recently qualified with less than 5 boat dives or "rusty" and have not dived within 24 months), then a dive guide will accompany you for an additional fee.
We have limited dive gear for hire & should we not be able to supply your requirements, then local dive shops in Mandurah; Perth & Rockingham can supply. UNFORTUNATELY the local dive shop in Bunbury no longer has dive gear available for hire.
What are you waiting for…the clear waters of the Indian Ocean beckon you, come and join us.
Our Dive Charters and Cruises offer unrestricted access to the magnificent beaches and the many dive sites beneath the surrounding waters.

Join us in visiting the various dive sites, including the FV Lena dive wreck – Bunbury's sunken treasure!
Or if you prefer a more relaxed style we also run boutique scenic cruises – "Group Bookings Only" – "See Bunbury From The Sea"  , where you will enjoy Bunbury's beautiful back beaches; Koombana Bay & our 3 Harbours ( Inner; Outer & Boat). Our local dolphins regularly approach the boat and are an added attraction. Even during the winter months , there are many pleasant days were you can enjoy our cruises.
Scenic Cruises ( 1.5 hour duration)
$60 per person ( minimum rate $120) – no charge for children under 5.
For longer cruises, price by negotiation.
For "Private/Boutique" cruises
ie no other passengers apart from the "group" booking, an extra $100 (total) applies.
$120 for 2 passengers (minimum)           $220
$160 for 3 passengers                                $260
$200 for 4 passengers                                $300
$240 for 5 passengers                                $330
$280 for 6 passengers                                $330
$320 for 7 passengers                                $330
$330 for 8 passengers +                             $330 ( max 10 passengers)
Dive Charters
For dives within 45 minutes of Casuarina Boat Harbour ( maximum depth 18 metres):
$150 per diver (excluding gear):
$145 per head for 2 divers
$140 per head for 3 divers
$135 per head for 4 divers
$130 per head for 5 divers or more (max 10 divers)


For dives further than 45 minutes from Casuarina Boat Harbour, an extra $20 per head applies.

Scuba tanks are available for hire at $15 per tank, &other dive gear is available from local dive shops.
For a huge range of other activities and attractions don't forget to tune into Tourist Radio on 98.4FM in Bunbury or visit their 
website
.